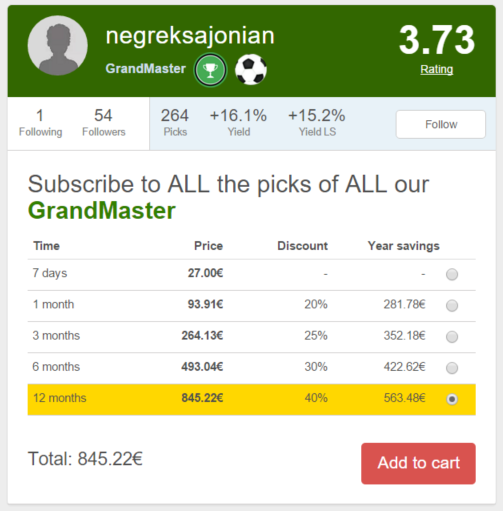 As of today, the picks of all our GrandMaster tipsters are becoming Premium. You can already acquire the GrandMaster Subscription, that will give you access to ALL the picks from ALL our GrandMaster tipsters, nearly 50 nowadays. You can follow them all or only those you select. You will also be able to choose those tipsters from which you want to receive a new pick email alert. There are 7 days, 1 month, 3 month, 6 month and 12 month subscriptions.
You can make your purchase with your debit/credit card, Paypal or Skrill. Just go to the profile of any GrandMaster tipster and make the purchase there.
If you were thinking about managing your own Portfolio of Tipsters at a reasonable price, this subscription is the perfect all-in-one solution for you!!
If you are a GrandMaster Tipster, in exchange, you will have FREE the GrandMaster subscription, as long as you continue being a GrandMaster. Moreover, we'll soon introduce a rewards system that will give monetary prizes to the GrandMaster Tipsters who deliver good results. More info soon.