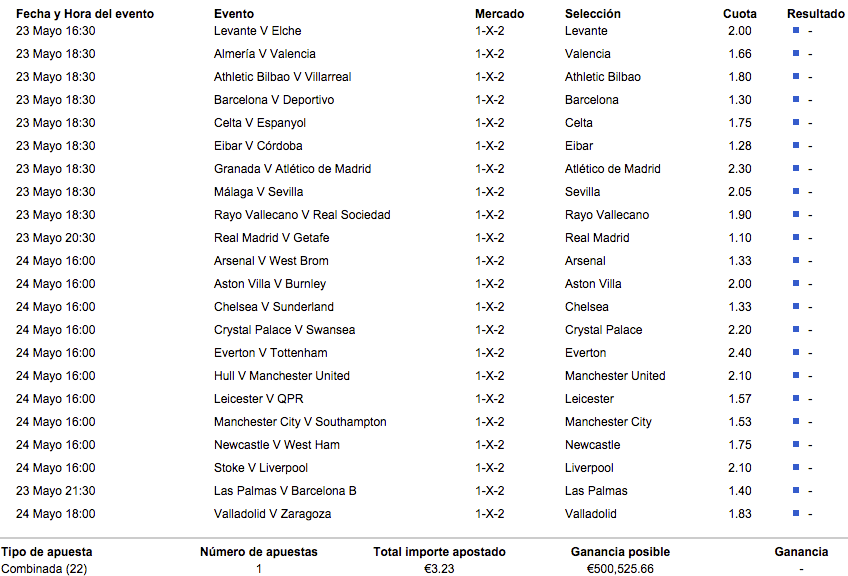 Hi everyone! We are back with our crazy multiple bet!! We've bet on all the favorites on the Spanish bookie Sportium, on all the favorites of the Spain 1st and 2nd division games. We can win 500,000€!! We will distribute the potential prize among all those with a Twitter account who RT this tweet in our timeline and follow our Twitter account.
Yes, we repit, is nearly impossible… the probabilities are nearly zero. But… if it happens? Are you gonna miss it only because you didn't make a RT? 

RULES
- All users whose Twitter accounts RT the above tweet and follows our Twitter account, until May 23  2015, at 16:29 h. (GMT+2) will participate
- If we win the multiple bet the prize to be distributed among the winners will be net of ALL applicable taxes.
- Only >18 year old participants can take part and only one participation per user. A notary would manage the distribution of the prize process
- If for whatever reason Sportium doesn't give us the prize we won't be able to distribute it among those who have complied with our requirements
- Only one participation per Twitter account allowed.
- The participation in the distribution of this potential prize implies acceptance of these rules