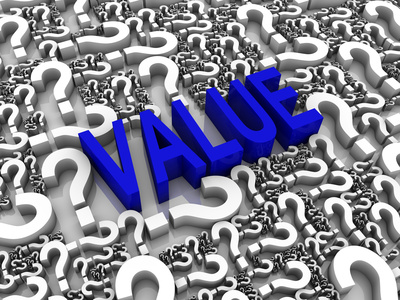 The concept of "value" is widely used by punters and tipsters when explaining or justifying their selections. I myself have used the term on multiple occasions, but I can´t help noticing that I have been trying to avoid it as much as possible lately, and even when I do use the term I feel a kind of embarrassment in doing so.

When someone says that they see value in a bet, what they actually mean is that the probability attached to a determined outcome is greater than the probability implied by the odds. If someone sees value in a Valencia victory over Real Madrid at odds of 6,20, they are confirming implicitly that, for them, the probability of Valencia defeating Madrid is greater than  (1/6.20) = 16.13%. Let´s imagine that Valencia win the game. Does this mean that those who claimed the value was at Valencia were right in their argument? Not necessarily. Making this forecast does not necessarily mean there "was value". It could have been coincidence or luck. Real Madrid could have had 20 shots at goal and not have scored while Valencia could have had just one shot or scored after gaining an unfair penalty. If we play roulette, roll dice etc. we know the exact probability of a determined outcome. But in sport it is impossible to know the probability of various outcomes beforehand. For this reason the concept of "value" isn´t meaningful in the short-term. Let´s take another example. Imagine a tipster who forecasts and then argues why he believes there is value at 1.45 in a Robredo victory over Almagro. Almagro then goes on to win 6-1, 6-0. We cannot claim the forecast was very bad and that there clearly was no value in that bet either. It is possible that over 100 matches Robredo might have won 90 of them, with this one being one of the ten that he would lose. Those who place bets are trying to evaluate, beforehand, how the outcome of a sports game could turn out, but they are not fortune tellers. They don´t have a crystal ball that will tell them if a player might get injured, if they might have a bad day, etc. The outcome and evolution of games of sport are determined by external factors that are impossible to identify beforehand. In summary, it does not make sense to state, as I have pointed out, whether a bet had value if it won or that there was no value in the event that the bet lost.  
The concept of value makes sense in the long run. If over a large number of bets a tipster or punter has been capable of generating very strong results, we can implicitly say that their forecasts have added value and that they have been capable of estimating probabilities better than the bookies or the market. While keeping in mind that a yield of 10% is an incredibly good long-term record for any tipster, we can state that this knowledge or skill will only generate a very small impact for an individual, single bet. Let´s imagine, in the Valencia v Real Madrid example, that a punter with a long-term yield of 10% forecasted that Valencia would win at odds of 6.20. This Valencia bet has an implied return of 520% in the event it wins. Well, we can say that on average, if the long-term yield of the tipster is 10%, of this 520% returned only 10% will be due to skill and the rest due to luck (510%). This assertion is tough on the tipster, but correct…
In summary, winning at betting involves estimating, even if subconsciously, the probabilities of sports events outcomes more accurately than the bookmakers in the long-term. It is true that winning in betting is equivalent to being capable of identifying value when analysing sporting events. But value is a concept that only applies to the long-run. In the short-term, luck and uncertainty has a lot more influence than our skill or experience.