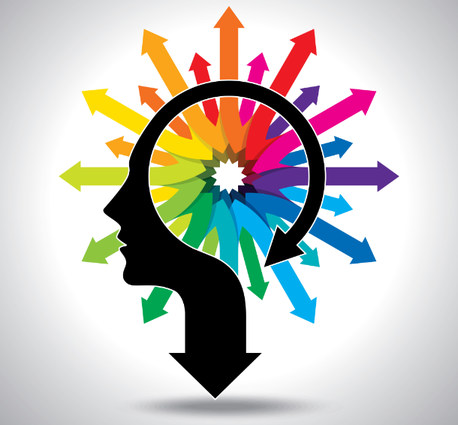 I have published my Tennis and Football tips on Sportyy.com for several years, first completely free of charge and then on a subscription basis. Although what I have written in this article is mainly an "autobiography", I don't think I would be too far wide of the mark if I said that many other tipsters or forecasters will have felt exactly the same emotions as those I write about here, whether such tipsters are giving their tips away for free or charging for them. A tipster has to carry a significant burden of responsibility when charging a subscription fee for his selections, but when you have many followers betting on your recommendations, even if you don't charge for them, you cannot help but feel (a significant) pressure that can affect the quality of your selections.

I have summarised 7 states of mind that tipsters will experience, which will be a function of their sequence of results: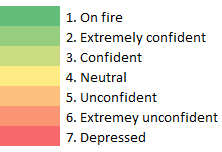 In principle, if we are talking about the central categories on the above scale, (to generalise) it is normally a good option to follow tipsters with confidence and not to follow those who are lacking it. But as we approach the extreme levels of the scale, things change.
Let's put ourselves in the shoes of a tipster who is watching his profit curve (P&L graph) soar while he is on a winning streak. Confidence makes you see things with greater clarity, boosts your ego and inspires you go against the general direction of the crowd, daring to take bets that you would not make with less confidence. It is good to follow confident tipsters. However, beware when the tipster develops an "I am God" attitude from continued top form. All tipsters have found themselves in this state of mind at some time or another after all has been going well. Here is the danger. You feel invincible and you think everything is going to carry on like that forever. Even though it may be a subconscious reaction, you effectively consider yourself akin to a fortune teller capable of predicting the future. Although you say to yourself "I am going to calm down and not bet any more than normal" it is difficult to do so. Without meaning to, you issue tips that you wouldn't normally make if you were not in this state of "levitation". This overbetting makes your selections worse and can decimate your bankroll very rapidly. My recommendation is therefore to temporarily stop following tipsters who are "on fire". There are obviously exceptions, but I believe that on average it is unprofitable to bet on tipsters who are showing signs of excessive confidence.
On the other hand, things change. I don't believe it is good to follow unconfident or extremely unconfident tipsters either. When you don't bet much, your self confidence evaporates, you don't see things as well, you don't analyse the games correctly… In summary, you are likely to continue losing. However, if the losing streak continues and the tipster keeps sinking, he will reach a state of depression in which things can start to change. The tipster will not get as much sleep and will sleep badly, will enter a quasi-depressed way of thinking and will not want to make another bet in his life. But he knows that he has a duty to his followers or subscribers and doesn't have any option but to continue. Many tipsters temporarily stop issuing tips for a while in order to recover mentally (which is a wise choice) and/or they start to think not twice, but instead 20 times, before issuing each pick. They also issue far few bets than normal. As a punter, I think this is a great moment to follow or at least to start closely monitoring such tipsters. We are of course talking about tipsters that have previously demonstrated a great track record over a large number of selections – not just anybody who is starting out afresh. Generally speaking, the more experienced a tipster is, the better their ability to control their behavioral impulses (and emotions).
In summary, my recommendation is to follow tipsters who are confident but to stop following them if they enter "on fire" mode and to consider following good tipsters that have entered a state of depression. How is it possible to detect when a tipster is "on fire"? If the tipster is on an incredible winning streak, he may increase the number of picks that he issues, he may start betting on other markets that he never normally touches, and he may become a bit more "lively" than normal… Be careful, he is "on fire". In contrast, if a tipster can't stop losing, if you judge his state of mind to be very weak and then he goes on to announce that he is going to stop betting for a while or think carefully about the methodology behind his picks and issue far fewer tips than normal, he is in depressed mode… Now is the time to start following him.
It is important to highlight that luck plays a very big role in the short-term when betting. That is, random luck will affect all the things discussed above. A tipster's Profit and Loss account doesn't just depend on the tipster but also on luck. A tipster's true worth is demonstrated over the longer term. The comments I have made here are based on my personal experience from almost 4 years of issuing tips. Every person has a different mentality and each tipster is different. In the medium and long-term, if you are a punter that follows other tipsters I think it is a good idea to keep these guidelines in mind.
Finally, I would like to point out that what I have written is only applicable to tipsters who publish tips for their followers. When a punter bets on his own account without passing his tips to others, the pressure is not comparable. When other people follow you, things change. Many of those reading will know from their own experience that the majority of tipsters suffer most from knowing money is being lost by others than from losing their own money.
If you are a tipster but you still don't know our platform Pyckio.com, we invite you to prove it. You can submit your picks and have a personal Tipster page with all your charts and statistics for free. You can be followed by many users and you can even become a PRO Tipster in the sport you excel at. If you are a punter you are also welcome. You can follow the best tipsters (Free or PRO) and also trying yourself. You can submit your own picks without risking a penny.
If you register NOW and before 48 hours you buy one or more packages of 200 or 1000 picks, we offer you in everything you buy 30% extra picks. Offer only valid for new users who buy in the first 48 hours.
Register now for FREE to get this 30% extra picks
Do you want to win money in sports betting?