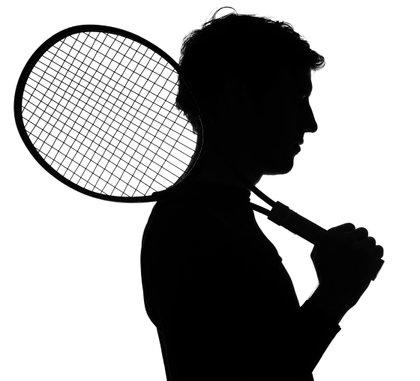 We have all had the negative experience of betting for the favorite player, only to see that quotes go through the roof just before the match. The match hasn't even begun, but you already know that you will lose that bet. In those cases, protecting yourself betting for the adversary player will not be interesting, as quotes are already too low by the time you realize what is going on.
In most occasions when this kind of abrupt quote movements happen, the match is won by the player whose quote has suddenly dropped. Even so, it is not a good idea to bet large quantities of money to that player because we can also suffer an "snowball effect": a player with a previous history of match-fixing starts experiencing a sudden rise of the quotes. This is noticed by punters who start thinking that the match is fixed, bringing quotes higher. The more those quotes raise, the more the market will think that there is something fishy going on. In this case, movement in the quotes, even normal movements generated by the market, will generate additional movements in the same direction. The player whose quotes were raising wins the match, and punters that bet based on suspicion of match-fixing will lose their capital. We can also find the situation when punters with enough liquidity try to generate this initial movement to take advantage of the lower quotes.

In summary, professionals from the betting industry are very aware that match-fixing is a common practice, as pointed our recently by BBC and BuzzFeed News report. The main problem for law enforcers is to prove the existence of match-fixing, even if there are clear indications that something is going on.
The following chart shows the evolution of the "pre-match" quotes between Pere Riba and Jan Hajek, a match played on October 25th 2010 during the 1st round of the ATP250 Tournament in Vienna. Any punter specialized in tennis would argue that this match didn't have a clear favorite (the first transaction on Betfair was completed at 1.85-1.90 levels favorable to Hajek). But quotes started to go down slowly until reaching the 1.07 level before the match begun (a 1.07 quote represents a possibility of 93.5% on that direction). As expected, Hajek won the match with a result of 6-0, 6-2. Some people had privileged information, and used that information to bet against the Spaniard. During that match, it was also surprising to see the hundreds of thousands of euro negotiated on Betfair before the beginning of the match – a surprising fact for the 1st round of a minor tournament. This is the evolution of the quotes until the match started: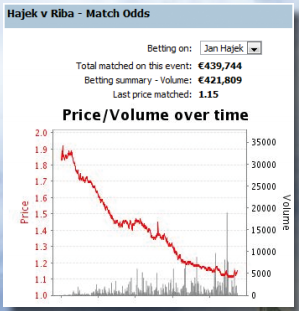 Even if we tend to think otherwise, not so many professional tennis players make large sums of money during the season. Ernst Gulbis, currently world number 79 and former Top 10, recently made the following statement: "last season I made 600.000 dollars, and I spent them all on my coaching team and operational costs. Players with no sponsors are very limited financially as they can't afford to hire the basic team (coach and physiotherapist). In order for me to cover all my costs I would need to enter the Top 5. Only after leaving professional tennis, some players start making some money." Those words must sound as an exaggeration, but it is a fact that for the main part of players the operational costs (coaching team, flights, hotels, etc.) are too high to allow them to turn a profit during their career. Only the very best players are able to reach financial success. Taking that into account, it is not surprising that some players can potentially make more money betting against themselves than winning their matches. You don't need to coordinate with your 10 other teammates as it would be needed in a soccer match, it is as easy as losing the match.
Obviously, they need to be careful as how to you do the actual bets: splitting them in several betting websites, not to use the accounts of relatives or close friends, etc. The ATP and betting companies are very aware of this fact, but unfortunately it's very difficult to prove this practice.
It is logical to think that match fixers should be not-so-young players, without the potential to rise in the ATP Rankings, and it should happen more often in minor tournaments. However, the BBC/BuzzFeed report shows that some of the cases have taken place in major tournaments such as Wimbledon, and within players in the top rankings (including one Grand Slam champion). According to their sources, the TIU (Tennis Integrity Unit), after analyzing strange movements in quotes, they have evidence of match-fixing by 16 players that were part of the ATP's Top 50 at one point. We all suspect who those players are, but we are sure that there will be surprises when the final list comes to light.
We have seen in several occasions some strange quote movements, and even taken into account in some occasions the "match-fixing risk" when making our bets.
Match-fixing methods may vary depending on the situation. We suspect that in most cases the player loses the match on purpose, with the rival not suspecting what is going on. By acting that way risk is lower, as only the player and his/her sidekicks know about the situation. And if that particular player is the favorite even better, as his/her rival's quote will be higher, and their profit will also be higher.
We can also find the case of two players who are close friends, or have the same nationality. Some of them spend a great deal of time together as they play doubles and mixed-doubles together, and there might be an agreement for one of them to lose the match or agree on the evolution of the match, taking advantage of the Live quotes to obtain the highest profit. This is what happened during the Davidenko vs. Vasallo-Argüello in Sopot on 2007. Another method is that both players agree to win one set each, and play the third one freely. By doing so, they can make money betting for the match to last more than 2 sets, but the winner will be decided in an "honest" way.
The BBC/BuzzFeed report refers to matches played during the last decade. In reality, we have been seeing strange movements on quoted for a long time, especially in pre-match and Live and in certain tournaments. However, we have seen less suspicious activities in the last years, probably a cause of increased investigation by ATP, effective sanctions to players and the media involvement in this subject.
On another note, we also need to mention that some players have reported being contacted in their hotels by individuals offering them large sums of money in exchange of losing their games, and even threatening those players and their families in case that offer is rejected. We need to take into account that this puts players in a very difficult situation. The BBC suspects especially of Russian and Italian organizations.
Lastly, we are also aware of a common practice involving ATP physiotherapists. They are asked for inside information related to the physical condition of certain players who have recently suffered injuries. They are handsomely paid for that information, with payments that often represent several times their yearly salary. This practice can't be considered as cheating, but it is a something that is happening in many tournaments lately, as some professional players have declared pyckio.com during off the record interviews. We can therefore deduct that some of the sudden movements in quotes are originated from their medical team, not from players themselves.
Eight out of the sixteen players under investigation, whose names will most likely become public at one point or another, are currently playing the Australian Open.