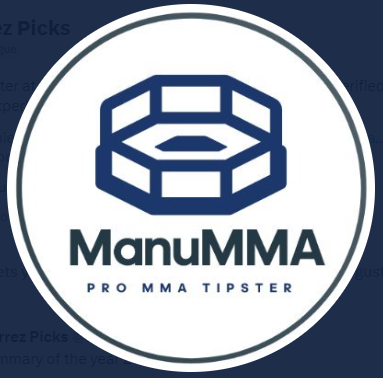 manumma is our only MMA Tipster PRO. As you can read, he is a true connoisseur of this sport and his results show it. In Pyckio since 2014, his statistics in Pyckio at Pinnacle odds (as of January 28, 2023) show a Yield of 5.1% in 2167 picks.
<< As a special promotion, we will give you 30% extra picks if you buy a pack of manumma picks before Wednesday, February 1 >>
-

1. What do you do, besides being a PRO MMA Tipster at Pyckio?
I am a journalist. I work in the communication sector for an e-learning company.
2. Where does your knowledge of this sport come from?
The knowledge about this sport is something that I have been acquiring over the years by watching thousands of fights. It is true that I have always been especially attracted to contact and combat sports. So much so that I have been a taekwondo fighter and played rugby for many years. Likewise, I have been watching boxing matches regularly, both live and on tape, since I was 14 years old. As for Mixed Martial Arts, I began to be interested in this discipline in 2013, a year in which stars such as Khabib Nurmagomedov, José Aldo, Georges St-Pierre or Jon Jones stood out. Once this approach was produced, my interest in MMA grew very quickly.  I started just watching the main fight, but few days after, I began to wake up earlier (most of UFC events in Spain are in the night) for the two-three last combats. After, I watched every main cards. Thus, year after year, the number of fights that I saw live at dawn on Saturday gradually increased. Until today, it is rarely the time that I stop watching the evening of one of the great MMA promoters in the world.
3. When did you start betting on MMA?
Although I have been watching MMA since 2013, it was only in 2015 that I started betting in a relatively serious way. Thanks to the good results, the amount of money that I currently put into play in the MMA bets that I place is much higher than it was in 2015. To this day, Mixed Martial Arts have become a form of personal investment.
4. What kind of information do you take into account to determine your picks?
Any information helps, no matter how small. From the knowledge of a micro injury to a simple photograph on Instagram. However, most of the information that MMA tipsters and analysts use is obtained from the tape studio. You can learn a lot from a fighter with the simple fact of observing and analyzing just one of his fights: cardio capacity, aggressiveness, fighting level, takedown defense… If instead of one fight you analyze two or three, the knowledge about that a certain fighter will increase a lot and you can even predict what he will do or how he will react to certain events. In the same way, it is always positive to complement the study of the video library with the analysis of a database. The latter is used to check the baggage of the rivals that the fighter you are analyzing has faced. It is not the same to have a record of 10-0 (10 wins and 0 losses) having practically faced amateur rivals than having a record of 6-3 having measured yourself against top level fighters. Finally, I like to take a look at the weigh-in the day before the fights. It helps me a lot to see how the weight cut has affected the fighters. A price can lose much of its value if the fighter steps on the scale looking unwell due to dehydration.
5. Is it essential to watch the fights? How many do you see a week?
It is absolutely essential. It is impossible to obtain positive results in the medium-long term if you do not see a minimum of fights. Obviously, it is not necessary to watch these fights live. The UFC, for example, offers the possibility of watching the entire evening on a delayed basis through a subscription program.
It is essential to know how to analyze a fighter's style within the context of the fight itself. a wrestler skilled in jiu-jitsu (ground) might struggle to bring out his skills if he is up against a wrestler skilled in takedown defense. For example, a jiu-jitsu fighter (ground specialist ) might struggle to bring out his skills if he is up against a fighter with very good takedown defense. Likewise, a boxer might have trouble deploying his striking if he's up against a fighter who continually goes for the takedown. "Styles make fights" is a recurring quote in this world. And it is very true.
As for the number of fights I watch in a week, it depends on how many events there are. Approximately, I estimate that I see about sixty fights on average per week.
6. Do you have some kind of system to decide your picks?
My picks are based on odds. I adjust the stake according to the value of a certain price and the confidence that I have in it.
7. Do many surprises occur? Are you more of a bettor of favorites or underdogs?
Mixed Martial Arts is a very volatile sport. Unlike other disciplines such as boxing, it is not so common to see favorite odds at 1.04 or 1.05. A single kick can change everything (check out the fight between Kamaru Usman and Leon Edwards). In MMA, 4oz gloves are used, which practically serve to protect the fist when punching, and the impacts are much more significant. Style clashes also favor chaotic and unexpected situations. A fighter can be clearly dominating a fight and go to sleep with an isolated punch from the opponent with five seconds to go. Fortunately, surprises occur very regularly and that makes this sport very attractive to the public.
I do not consider myself a favorites or underdogs bettor. As I mentioned before, I bet when I see value odds and I have a minimum of confidence in it. I don't mind betting at 1.15 if I think that fighter will win that fight 9 out of 10 times. Or, in the opposite case, bet on odds of 9 if I consider that this fighter would win that fight 2 out of 10 times. As all of us who are dedicated to the world of sports betting know, everything is about the odds.
8. How important is the decision of the judges? Are there many fights where the judges' decision is questionable?
The judges are one of the main surprise generators in the world of MMA. These are decisive when the fight has not finished within regulation time, since they must decide which fighter has done more and, therefore, has won the fight. Sometimes the winner is clear, other times not so much.
The criteria when evaluating which fighter has won an MMA fight is quite ambiguous. In principle, the winner of each round is the fighter who has been closest to finishing the fight. Also, damage must be prioritized over control, but… how do you evaluate a round in which a fighter has landed three clean punches on the opponent, has not received any blows, but has spent four minutes with his back on the ground? Is four choke attempts or a knockdown worth more? It is in these contexts where the most important dilemmas occur.
When there has been a close fight, in which it is difficult to decide on a winner, it is understandable that there is a discrepancy between the judges themselves. The problem comes when there is a clear winner but several judges do not see it that way. Unfortunately, the names of the judges who often generate controversy with their decisions are known to all of us who follow MMA on a regular basis.
9. What is, out of curiosity, your favorite fighter?
It's hard to pick just one because there are so many great ones. Personally, I like fighters who combine polished technique with aggression. Michael Chandler, Yoel Romero, Dominick Cruz, Petr Yan or Sean O'Malley are some of my favorites.
However, if I could only keep one, it would be Alexandre Pantoja. I fell in love with his style when I discovered him on season 24 of The Ultimate Fighter, the reality show about fighters produced by the UFC. Pantoja is a very complete fighter, super aggressive in striking and lethal on the ground with first-rate jiu-jitsu.
10. Finally, what would you recommend to someone who wants to start watching MMA?
Do not hesitate and do it as soon as possible. On YouTube, for example, there are dozens of historical fights available to watch legally: Griffin vs. Bonnar, Teixeira vs. Prochazka, Lawler vs. MacDonald, McGregor vs. Nate Diaz, Mauricio Rua vs. Dan Henderson… I can't think of a better first approach to this sport than enjoying one of these fights.
There are massive, spectacular sports that are more than established in popular culture: soccer, basketball, tennis. I love them too. However, there is nothing quite like Mixed Martial Arts. Facing two super athletes, each one of them with his strengths and weaknesses, in a physical and mental dispute in which almost anything goes, was (and is) a formula doomed to the most resounding success. After all, MMA fighters are our 21st century gladiators. Spectacle, aggressiveness, intensity, multiple fighting styles, tension from the first moment, surprise factor… all these things make MMA, in my opinion, the best sport in the world.