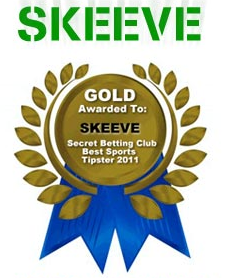 Skeeve is a PRO Tipster specialized in the English National League, who made profit for sixteen consecutive seasons with his pre-match picks. He's been proofing his bets to Smart Betting Club for fifteen years (since March 2008) and he also proofed his bets to Joseph Buchdahl's Sport Tipsters between August 2012 and its closure in May 2015. To date (17 Feb 2023), he has achieved a 11.2% Yield in 756 picks.
<< As a special promotion, we will give you 30% extra picks FREE if you buy any pack of skeeve picks before Sunday, February 26 >>
-

1. Who is Skeeve?
I'm a 42-year-old guy from Croatia and a non-league football tipster since 2006. I've studied sociology and worked as a journalist, a copywriter and a screenwriter before I became Skeeve full-time many years ago. Btw Skeeve was the name of a character in a fantasy novel "Another fine myth" written by Robert Asprin – it was the first nickname I could think of when I had to choose one for a betting forum registration back in 2005. Asprin's Skeeve turned out to be quite good at magic as well.
2. When did you start betting?
Around twenty years ago. After doing it privately for a few years, I started publishing my picks and previews in 2006.
3. Why the National League (ex-Conference Premier)?
I've been following English non-league football for around twenty years and I know all there is to know about every team in the National League (which is the most liquid market in non-league football – it's the league just below League Two), so I'm simply sticking to what I'm best at and have plenty of experience with.
4. Tell us about the process whereby you select your picks.
I wouldn't want to reveal all of my secrets, so I'll just say that my approach is a combination of stats (I have a very advanced excel sheet for each of the 24 National League teams updated manually with all kinds of numbers and info) and team news – I don't think there's many people out there who know as much as I do about these National League players and teams. What I also do is constantly analyze, modify, tweak and improve my approach – there's at least a couple of new elements of analysis each season as it's not easy to keep the edge over the industry for sixteen years and counting.
5. Where (websites) did you tip in the past? How do we know your registered results are authentic?
I was posting my non-league picks & previews on my old blog, on the Betting Advice forum, on the ex-Punters' Paradise forum (I was a resident tipster there) and on the Laka Lovica forum (I was a moderator there) between December 2006 and September 2007 and all of the picks starting with October 2007 have been independently monitored and verified, by the Betting Advice surveillance team between October 2007 and May 2010, by Joseph Buchdahl's Sports Tipsters between August 2012 and it's closure in June 2015, by BetRush between October 2016 and May 2019 and by the highly rated Smart Betting Club since March 2008 (so it will be 15 years of proofing to SBC in a few weeks). All odds in my historical sheet are Pinnacle odds available at the time of sharing the pick with my clients.
6. Can I get the registered odds?
Sure, if you're quick enough – odds will obviously drop a bit when followers get on, but if you're quick and/or if you have some other bookmakers/exchanges at your disposal (along with Pinnacle), you'll do great in the long run. To be honest, you'll make profit in the long run even at Pinnacle closing odds, but less profit than you would make by taking the bet straight away at the best possible odds of course.
7. Is there enough liquidity in this competition?
There is. Also, along with Pinnacle, there's quite a lot of other bookmakers and exchanges you can use – for instance, the National League liquidity with the exchanges is getting stronger with each season.
8. What stake or betting bank do you suggest?
I'd definitely recommend sticking to what you're comfortable with when it comes to stakes. As far as the betting bank is concerned, I'd recommend an 80-point bank at these stakes. I'll be publishing both my official picks and my "unofficial" picks at Pyckio – if you want only the best bets (but less quantity/turnover), you can feel free to take just the 6pt bets (on odds-on favourites) and the 4pt bets (on odds-against favourites). These bets made +173.96 points profit (28.2% ROI) at these stakes in the last four years, since I started advising bets on favourites as straight home/away win bets (or if you want, as -0.5 asian handicap bets).
If you want more quantity/turnover, you can take the 2pt bets (the draw-no-bets on underdogs; the "low value" bets where the difference between Pinnacle odds and my own odds is less than 10%, which is the difference I have to see to make a bet a 6pt or 4pt one; the (-1) asian handicap versions of 6pt and 4pt bets; the (-1) asian handicap bets on huge favourites; the odds-on OVER bets) and the 1pt bets (the long-odds OVER bets) as well – these are my "unofficial" picks which are profitable in the long run as well (they're not included in my historical sheet, but they were all proofed to Smart Betting Club), but at a bit more modest yield. I had 382 unofficial/shortlist/VIP bets since the 2010/11 season, which made +32 points profit (4.5% ROI) at these stakes.
9. What long-term yield do you think you can deliver in the long run?
With 6pt and 4pt bets only, at least 10%. With 2pt and 1pt bets along with the 6pt and 4pt ones, between 6% and 8%.
10. When do you submit your picks?
Starting with the 2019/20 season, I'm waiting to see the team sheets before I publish a pick. The vast majority of games I'm involved with (I'm not dealing with the occasional midweek games due to many factors) are scheduled for Saturday, 3pm UK time – for those games, I'm publishing the picks between 2pm and 3pm UK time (Saturday). When there's a televised game on a Saturday, it's usually scheduled for 5:20pm UK time, so I'm publishing the picks for those games between 4:20 and 5:20pm UK time. Very rarely there are some Friday and Sunday games – Friday games are usually scheduled for 7:45pm UK time (so I'm publishing the picks for those games between 6:45 and 7:45pm UK time (Friday) and Sunday games are usually scheduled for 3pm UK time (so I'm publishing the picks for those games between 2pm and 3pm UK time (Sunday)). There won't be many Friday and Sunday picks over the course of the season though – the vast majority of picks are Saturday picks.
11. Any messages to your potential subscribers?
I think I've already shared all the important info, numbers and details. I'm really looking forward to this partnership with Pyckio – here's to the 17th consecutive profitable season with my pre-match picks!