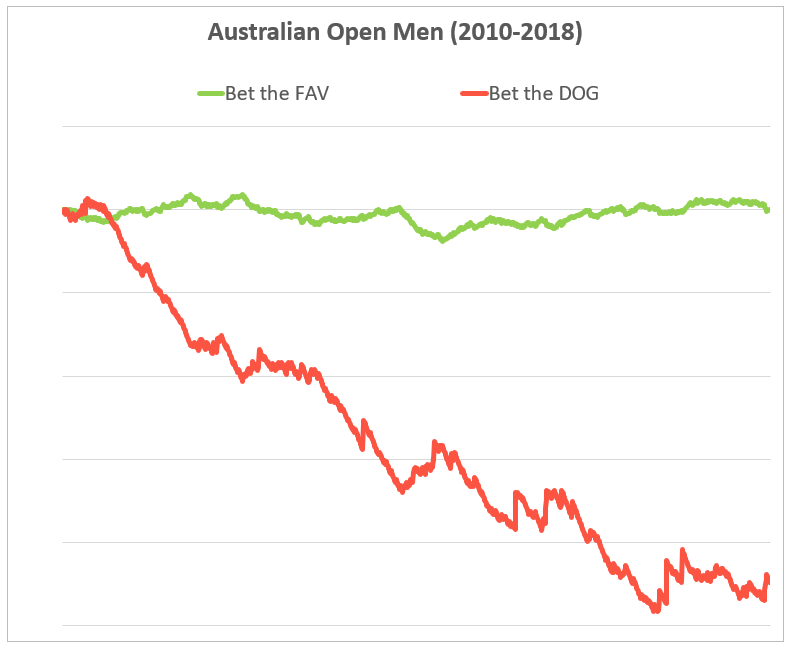 The Tennis Australian Open starts next Monday and we have carried out a study to find out the results we would have obtained in the last decade (2010-1018) if we had bet the favourite vs having bet the dog. We have taken the Pinnacle Sports closing odds under a 100€ fixed stake per bet assumption. All in all, we have registered 1140 valid matches.
The results are striking. Should we have bet always the favourite, we'd have achieved a 20€ profit, with a nearly null ROI (0.01%). By contrast, if we had always looked for the surprise we'd have finished with strong losses of 22,414€, a -15.6% ROI!!
Why such a great difference? In the light of these results we can draw the following conclusions:
1. The " favourite longshot bias" is evident. The favourite longshot bias "is an observed phenomenon where on average, odds offered by the bookmakers at higher prices have an implicit higher margin and vice versa, what means that the probability for bettors to win money betting the dogs is much lower. This bias is mainly observed at very high odds, larger than 5.0, 6.0 aprox.
2. Having said that, it's also true that the bias in this sample (-15.5% ROI) is extremely negative. One reason is probably that thesample of 1140 matches is not too high. Another additional reason could be that in the Australian Open there might be many less surprises than expected by the market. As it's a grand slam, they are best of 5 sets matches. Best of 3 sets encounters are much shorter and the potential number of upsets is logically higher, and lower in the former. The favorite players have more margin to recover in grand slams if they are down in the score. This fact might not be fully reflected in the odds.
To sum up,  with this analysis we do not want to suggest that you don't have to bet the dogs in the Australian Open but that you should take this bias into account to make a special effort when selecting your long shots. In the long run the expected return betting the dogs is impressively negative.